Pop in to Part 2 of the D1 Winter Primer. Lots of buckets in this one!
Elyse Macdonough Elyse Macdonough 5'7" Rice Memorial | 2024 NewE , 5'8 G – Rice Memorial High School Class of 2024
Last year's Gatorade Player of the Year and an absolute competitor, Elyse is primed for a big year. MacDonough is surgical on the offensive end, breaking down defenses with three-level scoring and facilitating. MacDonough draws a lot of attention for her ability to knock down shots inside and out, and in turn Elyse threads passes and moves the ball quickly to keep the defense scrambling and set up teammates for easy looks. She's a lockdown defender, taking pride in debilitating opposing guards and offenses at large with great anticipation, active hands and quick feet. Elyse is a two-way talent.
Lauren-Kate Garceau, 5'11 F – BFA St. Albans High School Class of 2023
LK is an inside out player who does a little of everything. She's comfortable facilitating on the perimeter and stringing passes into the second level as players come off of screens, or she'll drive it to the hoop and finish with patience around the rim. Moreover, she's a post threat too, facing up and attacking off the bounce or hitting cutters and relocating shooters for open shots. Garceau can defend 2-4 and rebounds well with strong box outs and pursuit of the ball. Lastly, LK can push the tempo in transition and create offense with heady advance passes or drives to the rim. Garceau brings competitiveness and high hoop IQ to the table.
Allison Fullem, 6'0 F – Mount Mansfield Union High School Class of 2023
I'm a big fan of Fullem's game. She's a paint controller, locking down post players with her strength, length, and grittiness. Moreover, she clogs the lane intuitively, rotating to drivers and challenging shots wisely while also communicating on the backside in order to assist the defensive scramble. Another inside out threat on offense, Alli can knock down threes and mid-range jumpers out of the pick and pop, or she'll dive to the rim and finish over the top. Fullem's hustle on both ends of the floor, her understanding of the game, and her ability to space on offense make her an integral part of the MMU cause this winter.
Elyse Berger, 5'10 G – Champlain Valley Union High School Class of 2024
A stout combo guard, Elyse Berger is incredibly reliable. You know what you're going to get with Elyse night in and night out; she plays with strength and control, harboring the ability to orchestrate the offense with ease while managing on-ball pressure due to her heady security of the rock and over-the-top vision with her height. She's a strong inside finisher and a great mover off the ball too, setting solid screens and cutting into gaps within the second layer of the defense. Berger rebounds impressively well and is adept at pushing the tempo with advance passes and patient finishes around the rim. Lastly, Berger can defend some 1's and definitely 2-4 with her size and anticipation. I'll be keeping an eye on Elyse over the winter.
Nicole Norton Nicole Norton 5'7" | CG Colchester | 2024 State NewE , 5'9 G – Colchester High School Class of 2024
Long and agile, Norton can give defenders fits with her ability to blow by into the second layer. Nicole's first step is both quick and lengthy, and her elevation when attacking the rim is quite impressive as she finishes in the paint with grace. Furthermore, she's a legit catch-and-shoot threat from all over the court, and her one dribble pull-up is also coming into effect. Defensively, Nicole disrupts offenses with sound on ball defense and a savvy ability to jump passing lanes for turnovers and deflections. Lastly, Nicole is a rebounding guard, yet if others collect the board, she runs the floor well in transition and can fill it up with fastbreak opportunities. Nicole is an all-around hooper.
Cassie Beste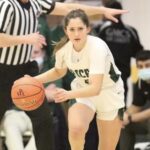 Cassie Beste 5'6" | CG Rice Memorial | 2024 State NewE , 5'5 G – Rice Memorial High School Class of 2024
Beste is coming off an injury and I'm unsure of her status, but nonetheless, Cassie is someone to keep an eye on. Beste can effectively play the 1 or the 2, exhibiting impressive facilitation at the 1 by getting everyone involved, handling on ball-pressure with grace, and orchestrating the offense. Or she will utilize her off-ball wits to dice up the defense with crisp basket cuts and heady relocation for her knockdown jumper. A potent three-level scorer with or without the ball, Beste displays an impressive understanding of the game. Defensively pesky, she bothers opponents with her in-your-face on ball pressure and aware off-ball help. Cassie's game is as solid as they come.