We're back at it with part 3, featuring a few under-the-radar hoopers as well as some high-profile 802 talents. Enjoy!
Kaylee Weaver, 5'6 G – St. Johnsbury Academy Class of 2023
An absolute spark plug, Kaylee is a high energy pursuer of the basketball. She collects a multitude of rebounds out of sheer will, tracking the ball and avoiding box outs on the offensive glass. On the other side of the ball, she boxes out strongly and is quick to collect the rock. A heady passer too, Kaylee can slip alongside the baseline and drop dump passes into the lane or hit spot-up shooters on the perimeter. Ultimately, Weaver is someone who will do the dirty work, making winning plays night in and night out with great effort, hustle, and high hoop IQ.
Ryleigh Garrow, 5'8 G – Colchester High School Class of 2023
Long and athletic, Ryleigh can get to the cup a number of different ways. Garrow has the quickness and handle to get by defenders, penetrating the second layer and often rising up amongst the forwards to finish strongly or pulling up in the short-range for a quick jumper. Ryleigh is a natural 2-guard who can defend 1-3, using nice lateral quickness and length to get in the passing lanes, slide into help position, and switch when necessary. Lastly, Ryleigh rebounds quite nicely for her size and is a coast-to-coast threat in transition.
Ruby Dasaro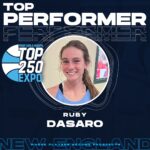 Ruby Dasaro 5'7" Bellows Free Academy | 2024 NewE 5'7 G – BFA St. Albans High School Class of 2024
With impressive spring in her step, it seems like Ruby can get to her spots whenever she'd like. Dasaro has a deadly hesitation, freezing defenders and cementing their feet as she breezes by, attacking the rim with an efficient floater/lay-up package. Ruby can shoot it too, and her off-ball movement is constant, coming off of screens and cuts for lay-ups and perimeter jumpers where she's especially effective off the catch. Defensively agile, Dasaro is hard to get by for she utilizes that impressive agility and body's opponents well with her core, derailing them from their driving lanes. Ruby is a strong prospect in the 2024 class.
Kelli Cieplicki Kelli Cieplicki 5'9" Rice Memorial | 2024 NewE , 5'9 G – Rice Memorial high School Class of 2024
One can tell quite quickly that Kelli has a natural feel for the game. She has a consistent jumper at all three-levels and is a crafty scorer around the rim, finishing nicely on both sides of the cup with patience and fundamental footwork. Moreover, she has great vision, seeing cuts and screens unfold and instinctively hitting teammates with timely passes. Cieplicki has the feel of a natural wing player, highly capable of attacking in transition and making plays for herself and others yet she's not afriad to muscle in the paint. Lastly, Kelli is a heady defender both on and off the ball, rebounds well, hits quick outlets, and most importantly, she competes. Cieplicki is an all-around hooper and one of the state's top prospects regardless of class.
Bree McDonald Bree McDonald 5'6" | PG Burlington | 2025 State NewE , 5'6 G – Burlington High School Class of 2025
Bree is an offensive juggernaut, plain and simple. McDonald is a three-level scorer who can create something out of nothing due to her deep bag of dribble moves, featuring crispy crossovers and hanging hesitations. She's a volume scorer, yet she can be quite efficient when she's intent on getting in the second layer and scoring in the mid to short range, thus opening her perimeter looks as defenders begin to sag. Bree is also capable of turning defense to offense with savvy on-ball defense, sitting on crossovers for steals and finishing transition buckets. Lastly, McDonald has solid vision and is adept at hitting teammates when the defense overcommits or begins to scramble. Bree is one of 2025's finest.
Allison Bushey, 5'7 G – BFA St. Albans High School Class of 2023
A hard-working guard, Allison Bushey is a true competitor. Bushey backs down from no one and relishes the opportunity to take on the opponent's best guard, hawking them around the court with on-ball pressure. Off the ball, Allison can take opponents out of the game if the gameplan is to faceguard, or she'll slide into help positions and defensive rotations with a keen sense of where the pass is going or where the rebound will come off. Offensively, her movement is constant, setting strong screens and making hard basket cuts for interior finishes. I like Allison's determination and attitude.
Emma Litchfield Emma Litchfield 5'10" Colchester | 2025 NewE , 5'10 G/W/F – Colchester High School Class of 2025
Emma is as positionless as they come. Over last winter she often opened the game jumping for ball and then would bring the ball up occasionally and assist the backcourt in breaking full court pressure. Litchfield had nice perimeter skills, hitting catch-and-shoot jumpers and driving to the cup patiently, using sound footwork in the interior. She also has this beautiful half spin along the baseline, freezing defenders as she slides by them for layups and dump passes. Defensively, Emma guards 2-4 and some 5's as she's very switchable, competing with wings with anticipation on the perimeter and muscling down low for post position and boards. I'm excited to see where she takes her game from here.