Last installation of the D2 Primer, dig in!
Charlotte Jasmin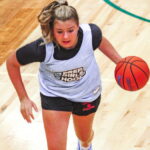 Charlotte Jasmin 5'8" | SG Hartford | 2026 NewE , 5'8 G – Hartford High School Class of 2026
With an impressive motor, Charlotte makes lots of hustle plays, using her strength and frame to collect offensive rebounds for second chance points. Moreover, Jasmin is an impressive interior presence. Charlotte finishes well around the hoop herself and defends well around the paint regardless of her opponent's size, making life tough on them. She moves well off the ball too, making hard basket cuts, screening for teammates, and making space for offensive fluidity. Overall, Jasmin is a tough guard who makes winning plays on both sides of the ball.
Macie Stagner Macie Stagner 5'7" Springfield | 2025 NewE , 5'8 G – Springfield Union High School Class of 2025
Macie is an all-round player with the ability to affect the game in many ways. She's a solid on-ball defender and supports well in the help position. Moreover, she can rebound at an impressive rate as she pursues the ball well. In the halfcourt, Stagner has good movement with basket cuts and screens for teammates. Macie is efficient with the ball too, finding cutters with timely passes, attacking the rim when it's there, and taking clean looks when they come to her. I'll be interested to see how her season unfolds.
Clara Wilson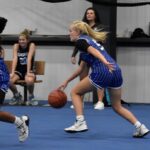 Clara Wilson 5'7" | PG U32 | 2025 NewE , 5'7 G – U-32 High School Class of 2025
A gritty point guard with sound instincts, Clara is a natural leader. Wilson digs in defensively, pressuring opponents with savvy on-ball defense and a sincere effort to turn defense into offense. She also moves intuitively into help position and rebounds well for her size. A classic point guard, Clara is always looking to get teammates involved with her heady transition advance passes and sound offensive orchestration in the halfcourt. I anticipate she'll take a big leap over the winter.
Katelynn Hadwen, 5'9 G/F – Fair Haven Class of 2025
Hadwen is someone who plays bigger than she is, allowing her to play a little bit of bully ball around the rim. She uses her frame and strength wisely to battle for position, collecting rebounds and finishing looks at the hoop. Moreover, she can run the break off of a defensive board, displaying the ability to read the floor well and make crisp passes as windows open up. Lastly, she can defend 2-4, moving nicely on the perimeter and staying in front of opponents while also muscling down low. I like her game.
Alana Crittenden, 5'8 G – Lamoille High School Class of 2026
Alana is one of my favorites in the class of 2026. Crittenden has immense upside, for she's an athletic and heady 1-2 guard with good hustle and hoop IQ. She can create looks with her ability to break defenders down, getting to the cup well in transition and in the halfcourt. Furthermore, Alana's vision keeps defenses guessing, for she can dish the rock with crafty dump passes, kick outs, and thread the needle through the defense. Her jumper is sound with the catch-and-shoot, and I've seen flashes of pull-ups, but why settle when you can get to the rack like she does? Keep an eye on Alana.
Cassie Boissoneault, 5'6 G – Lamoille High School Class of 2026
Cassie knows how to put the ball in the hoop, plain and simple. She's an emerging three-level scorer off the dribble and is quite consistent off the catch, stretching defenses with her prowess from behind the arc. Boissoneault isn't one to settle either, as she gets by defenders with a savvy shot fake and can finish at the rim or dissect the defense with nice passing skills. Cassie defends the ball well with her length and anticipation, making opponents work for position. I'm excited to see Cassie and co. at Lamoille this winter.